The main purpose of brackets used in shelves is simple: prop up and secure boards to make wall storage. But why do they need the supporting arms?  Because their is not enough structural itegrity at the back to carry the weight without the front supports.  Its these front supports that make the whole dammed thing look ugly.  In fact, there are plenty of examples on the market where even the brackets at the back look disturbingly ugly.   Its especially so, when the whole purpose of having the shelf is to display something of interest.
Well, we've come up with the ideal solution.  A cantlever system.  We call it the the Achor Wall Bracket (by Sasign).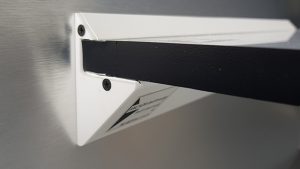 This clean looking shelf bracket is extruded here in Australia from Virgin Aluminuim, hardened, and then either anodized or powder coated.   Its so tough that rather than collapse with a 115kg weight applied, it ripped the 3 securing screws from the wall stud!
Its also a very flexible bracket too.  Designed to take a 16mm thick Melamine / MDF sheet, or similar (purchased at the likes of Bunnings).  It can also be used with Pixel or equivalent lighting defuser panels, or 10mm toughened glass (when packed out with acrylic wedges).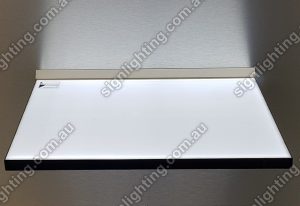 It also acommodates LED strip lighing so can be used in a wide range of shelving choices. Bars, Bookcases, a small workstations, media centres, and private storage structures, micrwave Ovens and appliances, retail display.
And if all that isnt enough, its one of the easiest systems on the market to install, but comes with instructions, just in case.
Available in 2M lenghts, we cut to size prior to shipping.  For more information, call us on 07 55649930, or by email at: sales@sasign.com.au