Firstly,  RGB stands for Red, Blue, Green, and designates that configuration in one of two ways.  Either a 5050 triple chip LED or three single chip LEDs, one of each colour all working together.  In the sace of the 5050 LED, it has three chips inside, -one of each color.  Color changes occur by varying the amount of power sent to each coloured chip.
there are also two types of RGB lighting:
Digital or pixel or addressable LEDs
Analoge RGBs
Whats the difference?
In the Digital LED strip, each LED can be controlled individualy.   This is down through a data feed which is programmed to create a special effect-
Anologe RGB, is when All the LEDs work together as one so while they change colours, there is no ability to switch them off and one individually.  All the LEDs on strip are the same color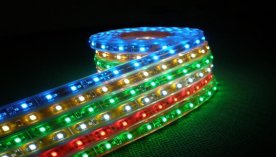 In this artical, we are going to focus on the analoge type only.  We'll talk about the addressable stips in the near future.
We've all been somewhere where its inconvienient to get up to switch the lights off, or youve wanted the change the lighting.  From a bright white in the kitchen when cooking to mood lighting while you eat?
Remote Controlled LEDs –  RGB work with only a touch of a finger through a variety of control gear.
You can purchase 240V AC LEDs, but they are subject to damage if the national power grid is unstable, and need to be installed by an electrician so they havent taken off.  We stock 12V DC as it really has become the industry standard, just like VHS did over Beta wihen Video players hit the market.
Then there are:
Wall mounted, hard wired Controllers, just like a traditional light swith, but more complex workings
Infrared (IR) controlled – You need line of sight between the remote and control units
Radio Frequency (RF) controlled – These work without line of sight, and are only restricted by distance and baffling.  These units can be locked (so that only one remote /Controller work, or open so that one remote can communicate with multiple controllers.
Blue tooth and Wifi – They work through you smart phone or computer and the software is downloaded from the internet.  Using the homes wifi, or directly through bluetooth, these sytems can facilitate programming a variety of functions like on/off times, brightness, colour changes etc. They can even be set to music.
We supply all but the IR units, which we just dont see a market for.
Its now possible to run RGB lighting in more than one room, and have each room individually controlled with the same controller.  We stock Control gear allowing 4 different zones to be controlled.
Benefits of Using Remote Controlled LEDs
Perfect Decoration for Indoor and outdoor : LEDs with remote control facilities are perfect for decorating your house, buildings, offices, shop window, shopping malls, wedding, anniversaries, parties, Christmas and to light other celebratory moods.
Multicolour changing lights : Remote Controlled LEDs give the users the privilege to experience unlimited different color variations. You can easily keep changing the atmosphere from clean, simple, romantic, sweet to disco, and music.
Safe and Efficient : Our 12V DC LEDs are completely safe, and they are extremely energy efficient.  They do not get overheated after prolonged use  and you can touch the LEDs even after long-time usage. The timer / remote functionalities allows you to manage the lights easily.   They have long life spans 30-50,000 hrs can be expected from ours. We market LEDs in a large array of configurations, so talk to us about your specific use, so we can provide solid advice you can rely on. Ph 07 5564 9930 or email us at: sales@sasign.com.au