Showing all 1 result
Anchor - The Floating Shelf Bracket
The Anchor shelf bracket is a Strong and asthetically pleasing cantilever, ( floating ) shelf bracket. It is manufactured by us. There is simply NO better display system on the market.  NO ugly end brackets, No uprights, just open clear space to display your items.
It was designed be be used in conjunction with LED lighting inside the shelf!
We manufacture it here, in Australia from hardened 'virgin' Australian alluminium which has been engineered for strength.  The Anchor shelf bracket is available in a Clear anodised finish, or either black or white powder coated 2.5M lengths
.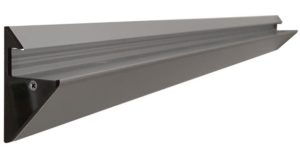 Ideal for a huge array of uses, it has a 16mm mouth,  which means it will take any standard sheet of 16mm material. The spine  supports the shelf equally along its entire length. making the weak point – Your fixings!   No other cantilever shelf bracket of this design is as strong, or verstile.
It can also be employed with Pixalux defuser panels, or we can manufacture a similar shelf lighting product to suit.
Ideal for bars, restaurants,  and other lighting projects, when used with 10mm hardened glass and packed out with 2 X 3mm acrylic spacers. (which we can supply)   With this configuration, LED strip lighting can be installed along the spine.