LED PIXEL NODES
LED Bullets with 100mm spacing
Description
LED PIXEL NODES  were developed for entertainment and Xmas decorations.  They are also known as programmable, Chasing, and digital LEDs.   Our supplier manufactures them specifically for commercial applications, which is how we can support them with a full 3 years warranty.

Waterproof-  IP 67
The LED PIXEL NODES are on a String and can be 100 nodes long before clean power should be introduced. It is just the node protrudes through the hole – each node has a WS2811 microcontroller and data is sent to each chip so they can deliver different effects – 1 X Power feed, 1 X Earth wire, 1 X data line (six wires), in and out.  The program is delivered by a mated digital controller, using the same WS2811 protocol.  Our controller has 133 programs built-in.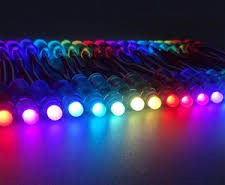 For full specifications click  'Additional Information', where the specification sheet is located
Our Flexible Digital LED Strip Lighting is another waterproof option when you need reliability and performance and also supplied with an industry-best warranty of 3 years.
Our full range of LED products, can be accessed by going back one tab. 
For regularly updated pictures and product launches, please click on our FB page
We don't buy on Price, and nor should you