WATERPROOF POWER SUPPLIES
Supplied with Australian plug for safety and convenience
Description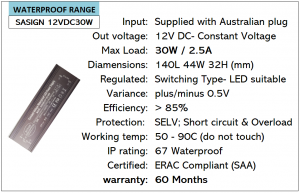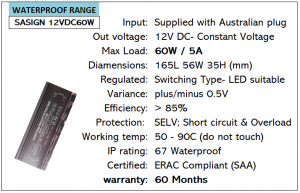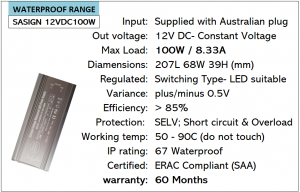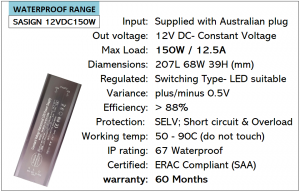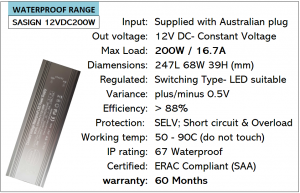 Our range of waterproof Power Supplies is SASIGN branded – That's important.  and they are the switching type units meaning they are designed to be used Safely as an LED Driver.  All Power Supplies /Wall Adapters/Transformers sold by us are designed to be used as LED Drivers and comply with the Australian Safety Standard. When we sell you LED products, we will match your purchase to the most suited Power Supply.
All Constant Voltage (CV) LED Drivers are rated at a specific current draw, however, this denotes their max performance and they work most efficiently when loaded at between 75-85% of their rated current draw. They are NOT designed to work at full load continuously. If overloaded, they may overheat, and switch themself off.  The first sign of an overloaded Power Supply is when the LEDs switch off and on like a car blinker.
Our waterproof Power Supplies are designed to use outdoors (rated as IP67) but are often used indoors as a cost-effective solution. They are so good, we proudly have our name on them.
When you purchase any LEDs from us, we will also advise on the most suitable Driver.  For access to our LED range- please click here: LED Products Range
At a glance- Australian (ERAC) compliance.
IP 67 (waterproof)
Supplied complete with 3 pin plug, for safety and convenience.
For range Specifications:  Spec sheet Power Supplies
The following chart shows how many LED modules can be matched to each Driver. LED to power pack spreadsheet
If unsure- please contact us on 07 5564 9930
We don't buy on Price, and nor should you