The issue
The greatest issue when lighting a lightbox described.  Unlike florescent tubes, LED chips are usually mounted on a flat surface projecting light forward like a torch, and the beam presents as a cone of @120 -140 degrees, concentrated in the center.
You need enough cross over of light, but not too much light concentration.  'Hot' spots and dead areas are common.  To make matter worse, LED specifications are often vague, with the vital details missing, complicating the process all the way from purchase to installation. Consequently, using LEDs to illuminate a lightbox can be a hit, miss, experiment – wasting time and money. Getting the volume and charactoristics of the LEDs right is often not achieveable without someone with the knowledge to support you.
Not all modules are equal.
Our 4035W1B module has a consistent 170 degree even illumination.  It has a low profile PCB, in conjunction with a 'quality' Cree chip which illuminates around the outside, (not the top) in conjunction with specially developed lens.
So what does all this mean.
You can back-light a lightbox without any variance in the surface illumination, from just 6cm deep.
You require fewer modules when lighting a lightbox. A one-meter square box requires a minimum of just 16 modules, more for darker colours.
You can now retrofit an old double-sided lightbox, usually WITHOUT removal of all of the internal framing.  If the framing can be safely removed, opt for our special 'Edge-lighting' modules (call us to discuss).
These pictures are a 2400 X 900 box (spaced at 20cm). The second one shows just how shallow and consistent the light beam is: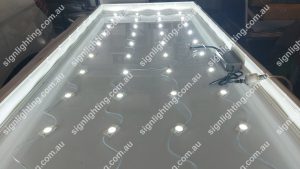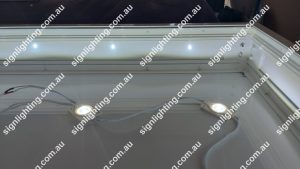 To us, selling is as much about Service
We can usually provide options, variables and advice on outcomes. We quote only what you require, (we dont sell by the bag), including matched LED Drivers – All backed by our 5-year Australian guarantee. Rest assured, we have sold well in excess of 50,000 of these modules, with100 percent positive feedback.
Your top draw can now be used for something more constructive than mismatched and obsolete LEDs that you paid for.
We will also preconfigure your LED module purchase with soldered joints and leads back to the driver.  Accompanied with a layout diagram, and lables, keeping life simple, efficient and clean.
For more information on how we can help:
Call us 07 5564 9930, or email us at: sales@sasign.com.au
Dont purchase from disposal outlets like ebay and Amazon, where factory seconds are dumped by brokers and traders parading as factory salespeople with no physical presence.
We specify the beam angles, so we can provide the correct number of units for complete and consistant cover of the surface
Know your chips are powered correctly – The same chip can be manufactured brighter simply by using a different resistor – over powering it.  Ours are all set for longivity and reliability over straight Lumens output.
Know the reliability – tested with true long life sales experience, and trusted Australian based supplier.
ALL our white chips are 6000K +-500, so that your Light presents as white and above 93 percent CRI.
We have an extensive range of LED strips & modules, so will guide you on which product is best suited to your application- Not flog what we stock.
Are an Australian business, since 1991 so our gaurantee is solid.
To keep up to date with Product launches click to follow us on FB