Sasign International manufactures the Floating shelf bracket branded as the Anchor – It is Australias strongest and cleanest Cantilever type of shelf bracket on the market.  Mr Symon from Sasign said, 'using the Anchor shelf bracket is a beautiful way of adding elegance to the shelving system in your home, office, shop or bar.  Its strength is in its backbone, so it does not require supporting arms (that intrude on the display) to carry the weight.  This translates to bigger and better display without distracting the eye from the Product.'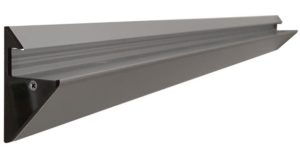 For Point Of Sale (POS) display of product it translates to full exposure, without unsightly struts, or end brackets like traditional shelving systems.  So you can attract more customers to your products.
Why is the Anchor shelf bracket so good ?
Its a Floating shelf bracket extruded from Australian Virgin Aluminium which is then proceesed to make it tougher.  It supports the entire length of the shelf in its spine.  Up to 2.5M long, by its backbone.  Its easy to install and readily available in 3 colours from Sasign International. Either Clear anodised, and black or white powdercoated.  Its designed to take either a 16 mm thick length of colorboard, melamine or similar board. It can also accomodate 6 or 10mm thick glass or acrylic with acrylic spacers (which we can also supply). This means that the Anchor shelf bracket is ideal for use in conjunction with LED lighting .  White / and multi-color changing light panels can also be arranged.    Talk to us about what can be achieved!